What Can I Do With My ETH on Summer.fi?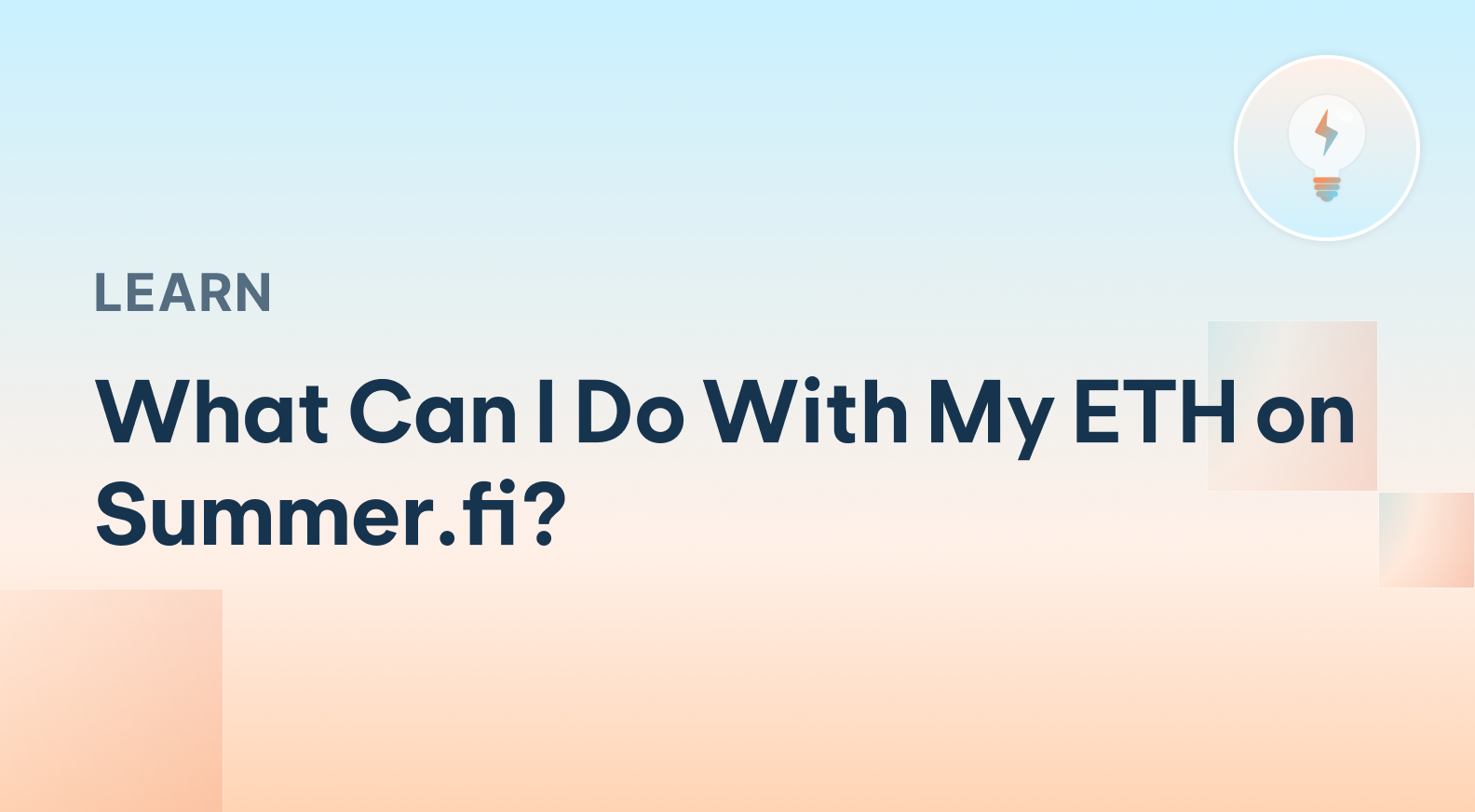 With this article, we want to give you a high level overview of what you can do with your ETH, instead of just holding them.
There are a lot of options which allow you to get the most out of your ETH, and Summer.fi can make your life easier!
What is there available to do with my ETH?
As you can see from the graph above, there are two main paths you can follow when you decide to get the most out of your ETH tokens:
Lending your ETH
Borrowing, using ETH as collateral & Multiplying the exposure to it
Staking your ETH
In particular, Summer.fi can play a role in helping you when it comes to Multiplying and Staking.
The decision depends on your approach to risk & reward.
Multiply function allows you to immediately increase or decrease your exposure to a single asset without having to perform multiple transactions or go to other apps to perform the exchange. You can do it across multiple protocols (now Maker and Aave are available - see the difference here).
Risk: higher. You need to understand the market, set stop loss in Maker to avoid losses from liquidations and keep an eye on the market to
With Earn function you can get an increased staking yield from AAVE yield multiple. In this case you turn your ETH in stETH and borrow more ETH to repeat the process. This strategy is more conservative since you don't expose yourself to price changes of ETH, just stETH ratio changes.
Risk: lower. You can compound and accumulate more ETH with low liquidation risk since stETH tends to trade very close to ETH.
What is my ideal risk?
I love risk - I am aggressive, I can understand the market → go for Multiply, you could have higher returns.
I am more risk averse → go for Earn, you'll compound on your ETH and have some returns without risking
Do timing & market conditions have a role?
Timing always has a role. In particular, when we consider Multiply and Earn: when prices are trending up there is higher volatility, you can take more advantage from Multiply.
In general however, Earn is your product if you are not a risk lover.
Getting help
If you have any questions regarding Summer.fi in general, you contact us at support@summer.fi or on our social media.