Summer.fi Expands Earn With AAVE stETH Strategy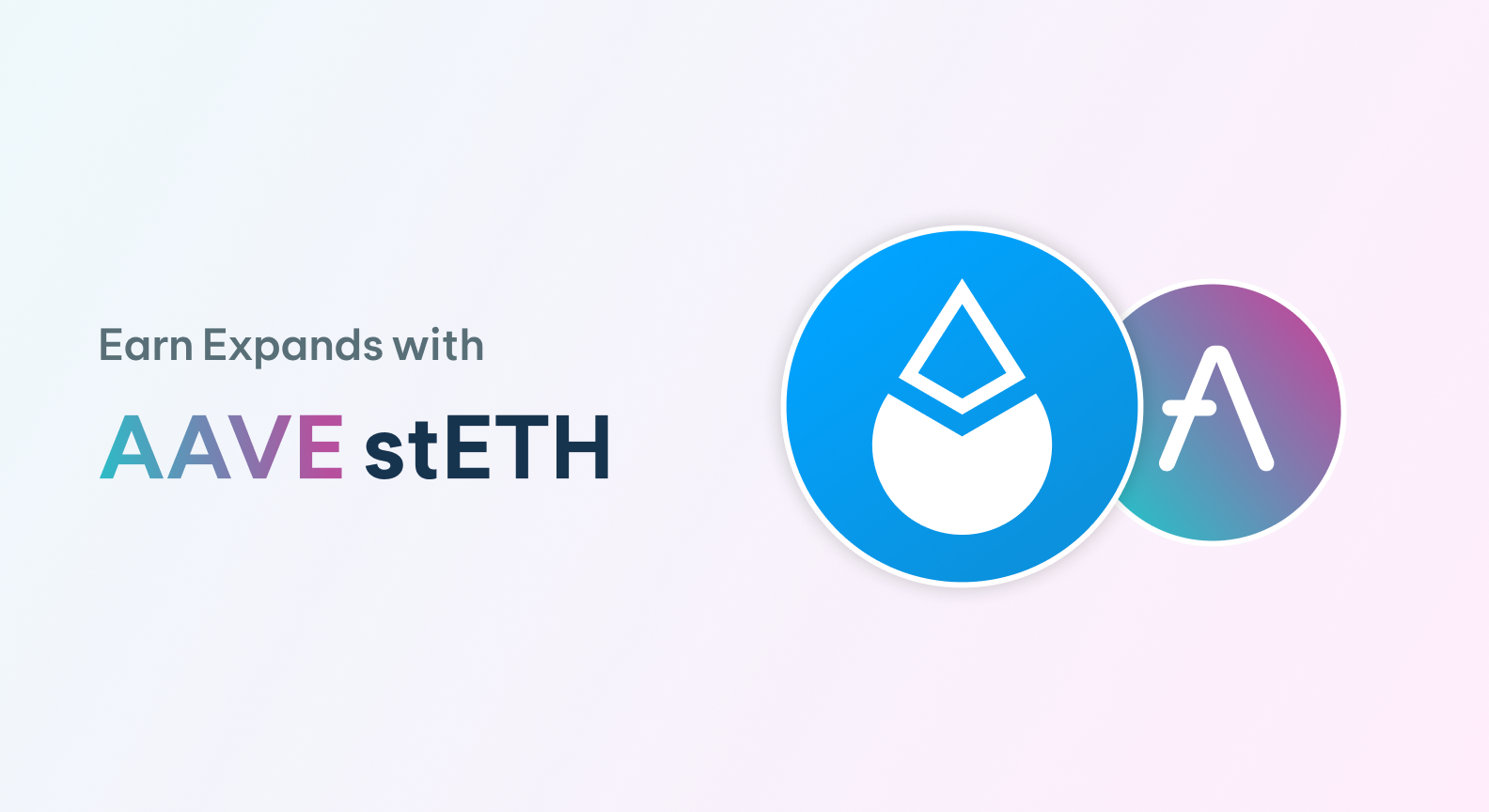 Summer.fi Earn moves into AAVE
Today, we are pleased to announce the launch of AAVE StETH/ETH Earn strategy to multiply your exposure to Proof of Stake yields with ETH. Enter this strategy with ETH, and take advantage of the best of DeFi to improve your staking yields.
What is StETH?
StETH is a token that represents 1 to 1 ETH staked in the beacon chain, it's the most used liquid staking derivative in the market. This token helps users stake their ETH while leaving the hard part for Lido (the creators of this token) and its node operators. We have some good explainers about liquid staking in previous posts in the blog, so you should check them out.

StETH is a tradable token that can be integrated with DeFi enabling users to do much more on their stake. AAVE, one of the prime liquidity protocols, integrated StETH as collateral and one powerful strategy that we are now offering on Earn has appeared: multiplying the StETH yield.
How this ETH Earn strategy works
The strategy is based on getting extra exposure to the returns of StETH. In a single transaction, users can put their regular ETH to work, and earn. In this new Earn product, users can come in with ETH, choose their risk level, and create their stETH position in one transaction. For example, a user can come in with 10 ETH, and adjust the risk level to a 2x multiple exposure.

In the end, you get a multiple return on your StETH. You pay an interest rate on your debt, but you get more yield on StETH compared to simply holding StETH.
When users open a position, this is what happens in this transaction:
A free flash loan for Dai is taken from Maker and deposited to AAVE v2 protocol.
ETH is borrowed to reach the desired multiple level.
The borrowed ETH plus the user's initial deposit is swapped to StETH through 1Inch.
The total StETH minus Summer fee is deposited back into AAVE v2 to begin earning yield
Dai loaned is withdrawn from AAVE and paid back to Maker.
The flash loan is paid back.
Closing these positions works similarly, but now it will sell the stETH in your position to pay back the ETH loan, and withdraw the remainder to the user.
How can you use it?
You can start using this strategy right now, going to https:// Summer.fi.app/earn/ and selecting the stETH/ETH earn strategy. You will be able to pick the desired risk level that is the best for you and monitor all the relevant data in a unified view.
What are the risks?
As always, higher returns entail higher risks. We have a Knowledge Base article that can help you understand the main risks of the strategy. You can access it quickly from the UI to always know and follow your Earn Strategy. In short, the main risks are liquidations and losses that could occur if the price of StETH to ETH changes against you.
Since withdrawals for Staked ETH aren't enabled yet, the price of StETH to ETH can vary a lot depending on market conditions. The app will help you monitor and follow your position to stay in profit, telling you the key information needed: the ratio of StETH to ETH, the liquidation price and your current APY.

Comparing options for returns on ETH
We know our community is bullish on Ethereum and ETH, and now that the Merge is complete, the scene for native returns on ETH is growing. For those who just hold ETH getting 0% yield, they can learn all they ever wanted to know about stETH in the blog. And if you get the itch to go from ETH to StETH right now to enjoy the sweet staking yield, you can use our Swap function to get stETH right now.

For the users who want to get the maximum, this new Earn strategy gets them straight from ETH into this advanced stETH AAVE position in a single transaction. This strategy will fit ETH holders that want to maximize Staking yields while taking some extra risk.
Why now?
We decided to be very cautious and wait for the Merge to be completed, due to the big volatility of StETH and the risk implicit in the success of the fork. Now that we all see the incredible success of Ethereum Proof of Stake we can hopefully say that such success has reduced the risk of this strategy, making it a great addition to  Summer.fi
You might be wondering why we are integrating AAVE into our product suite. We love the Maker and DeFi community and wish to be the place to deploy your capital into DeFi.
We aim to offer the best user experience, with a strong base in transparency, security and trust that we wish to continue building with our users and the broad community.
We made a dedicated post outlining the vision and the future of  Summer.fi
Don't miss that and stay tuned, we get more surprises for you in the near future.
About Aave Companies
The Aave Companies is a software development company – the genesis team behind Aave Protocol (https://aave.com) – and was founded to empower people through technology and innovation. The Aave team is focused on creating transparent and open infrastructure for Web3 applications.
Getting help
If you have any questions regarding Summer.fi in general, you contact us at support@summer.fi or on our social media.