Summer.fi Referrals get a Sunny Upgrade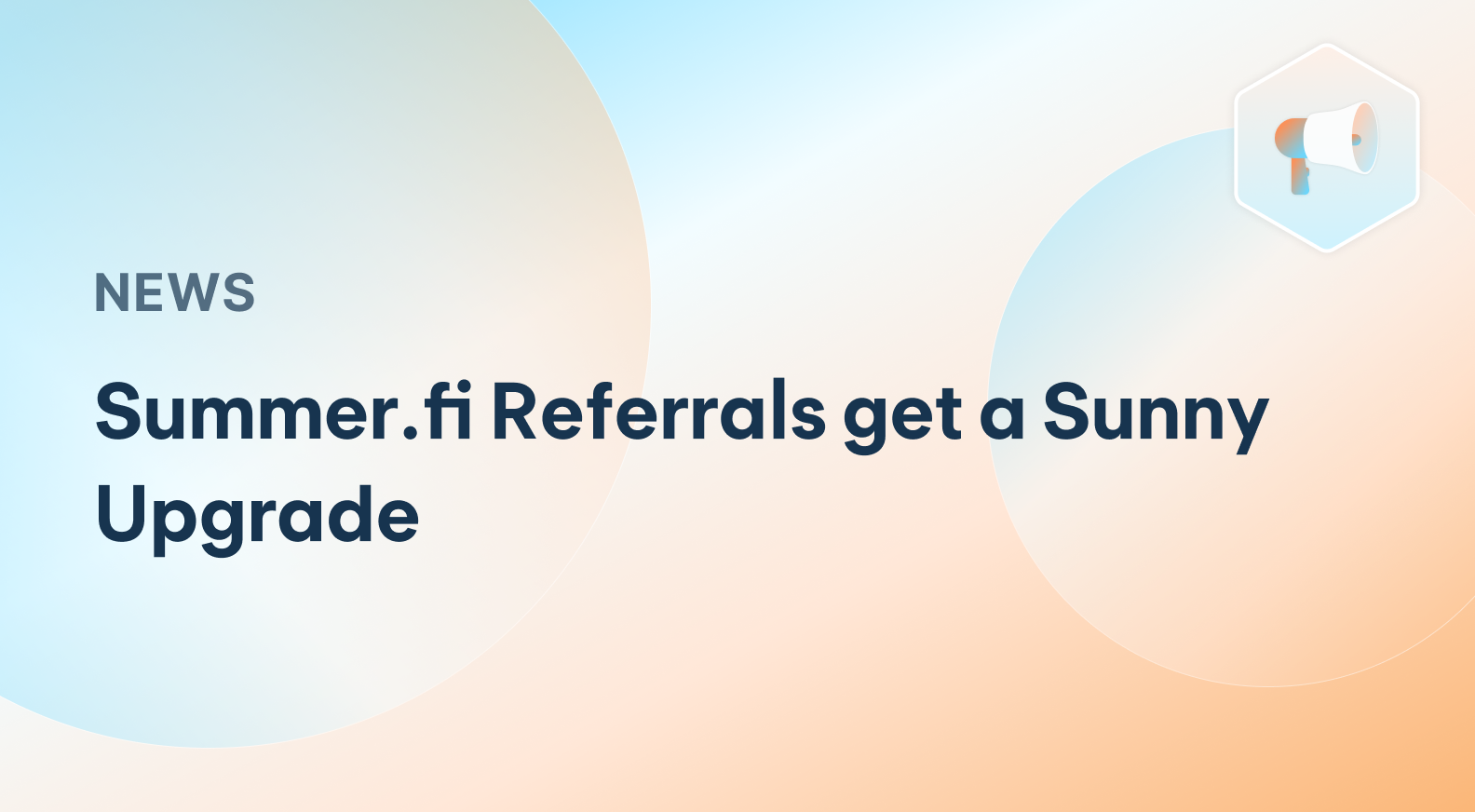 The Summer.Fi Referral scheme has had a big update: it's now even easier (and cheaper!) to get your friends referred to Summer.fi to start earning, and up to 20x cheaper to claim your referral fees. So if you want to share the knowledge about the DeFi Superpowers you have through Summer.fi, now you can for less hassle, while keeping more of the reward!
Access the Summer.fi Referrals program now at summer.fi/referrals
Claiming now on Optimism
We know it can be a pain to pay $20 to claim $50, so why not pay less than $1 to claim to the same amount? From this week, all claims have been moved to Optimism, meaning it is around 20x cheaper to claim your referral fees. All claims will still be in Dai, and if you need to bridge ETH over to Optimism for the first time, just hit 'Swap' in the navigation bar at the top of the summer.fi app and it will open our Swapping and Bridging partners widget, Li.fi within the app.
Referrals now work with ENS names
Ethereum addresses can be a pain, whether it's copying and pasting the wrong one, accidentally missing the last character, or simply just reading them to know who might have referred you. Well now that has just got 10x easier, with the support of ENS names in both the referring URL and when you've been referred.
When you now create a referral link, if you are connected with an account that has an ENS set, it will default to show you the referral link with the ens name, such as summer.fi/?ref=vitalik.eth
And when you've been referred by vitalik.eth, instead of being referred to Summer.fi by 0xd8d….96045 it will say vitalik.eth.
It's still 5% for you, 5% for the person you refer… forever…across all protocols and networks
We haven't changed how much you and your friends get with these recent changes. If you refer someone to summer.fi and they use any of the premium features (such as Multiply or Automation), you get to share in the Summer.fi fee they pay AND, even better, they get money back on their own fees. And this share is set to 5% each. So if they pay 100$ fee for a Multiply transaction, you'll each get to claim back $5, in Dai.
And this isn't just limited to a single protocol or network, use any of the premium features across any protocol or network supported on Summer.fi, and you will be earning. And it doesn't matter how many you refer, you will continue to earn for every person you've referred. So get started today at summer.fi
Getting help
If you have any questions regarding Summer.fi in general, contact us at support@summer.fi or on our social media.