Summer.fi Expands to Optimism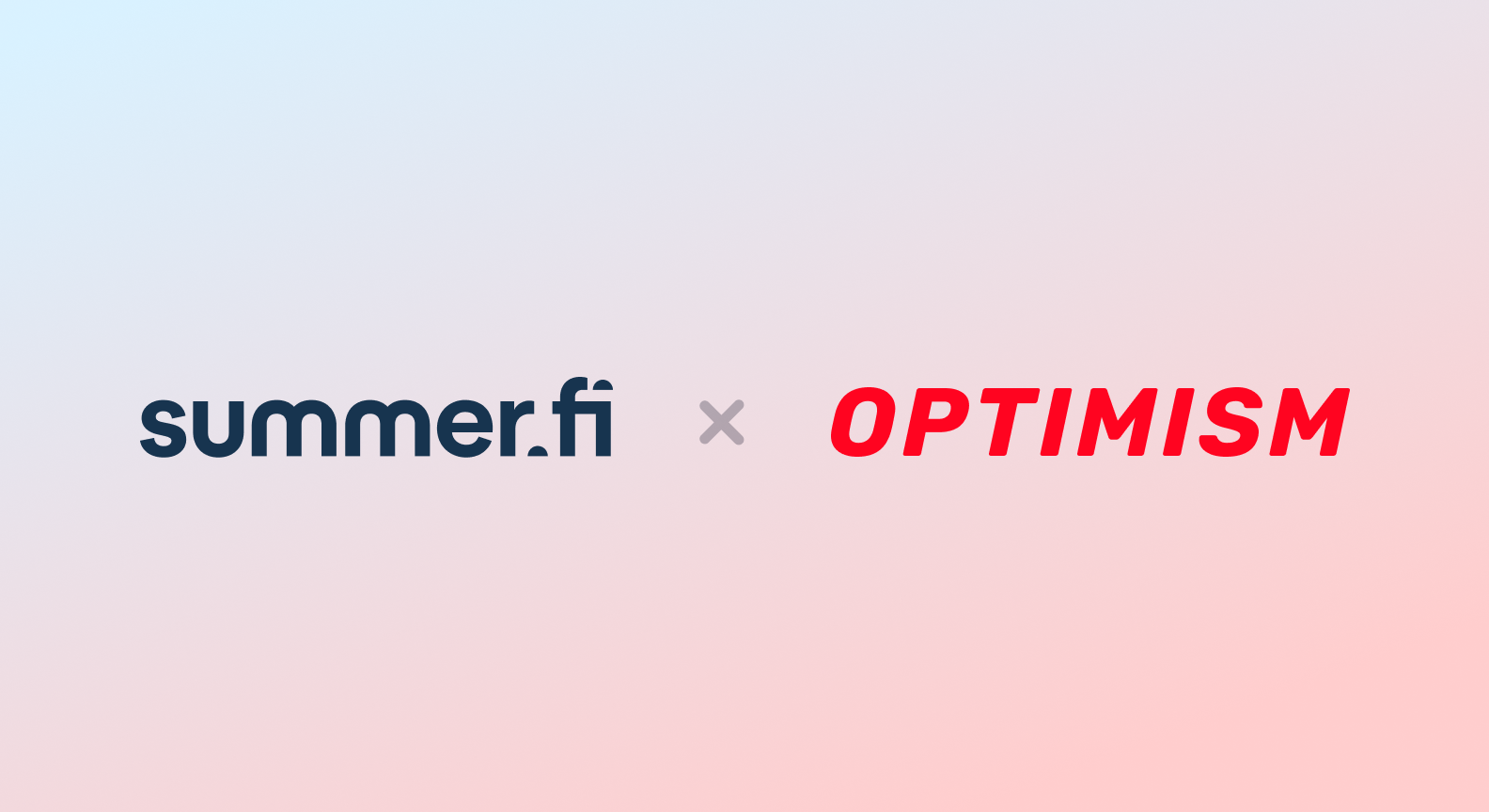 Today we are very happy to expand our product offerings on Optimism. This was needed to provide enhanced functionality, reduced transaction costs, and improved speed and ease of use.
You can now take advantage of all the buying opportunities you want on Summer.fi with 42x cheaper transactions on Multiply.
Layer 2 solutions alleviate the congestion on the Ethereum mainnet, enabling us to provide a seamless and efficient trading experience even during peak periods.
In particular, today, we introduce the support for AAVE v3 Multiply on Optimism, which will launch on Arbitrum very soon. Taking advantage of one of the leading lending protocols across multiple networks. Summer.fi combines AAVE v3 with its own world-class UX.
What does it mean for you?
With this release:
The simplest & intuitive management of Multiply positions is now accessible to you via the best L2s.
The easiest way to monitor Multiply positions in DeFi is now accessible via the best app. L2+Summer.fi.
Lower Fees, Lower Fees, Lower Fees!
What's new?
Are you a new user looking for a cost-effective way to tap into the power of Summer.fi? Or are you a previous L1 user contemplating a return due to elevated gas fees?
Surprise!
Why is it better on Summer.fi?
• One-click functionality
• An intuitive interface
• Simple and secure
How does it work?
Now, you will be wondering about the advantages of L2 for your positions. For example, you can now affordably multiply in various strategies that aren't possible on L1, like making small daily purchases with Summer Multiply, like DCA.
This is all made possible by Summer Multiply, which utilizes flash loans from Balancer on Optimism. This approach provides users a convenient and efficient experience, combining the Multiply functionality with the cost savings and execution speed of L2 scaling solutions.
Self-custody is a principle we uphold, allowing you to leverage it to increase your exposure to the tokens you hold at a significantly lower cost than using the Ethereum mainnet.
You will enjoy the same Summer's unique functionalities, including One-Click Multiply, an adjustable slider, and much lower gas costs.
Try it now; go on summer.fi/multiply, and find all available options.
Getting help
If you have any questions regarding Summer.fi in general, you contact us at support@summer.fi or on our social media.