October Recap By Summer.fi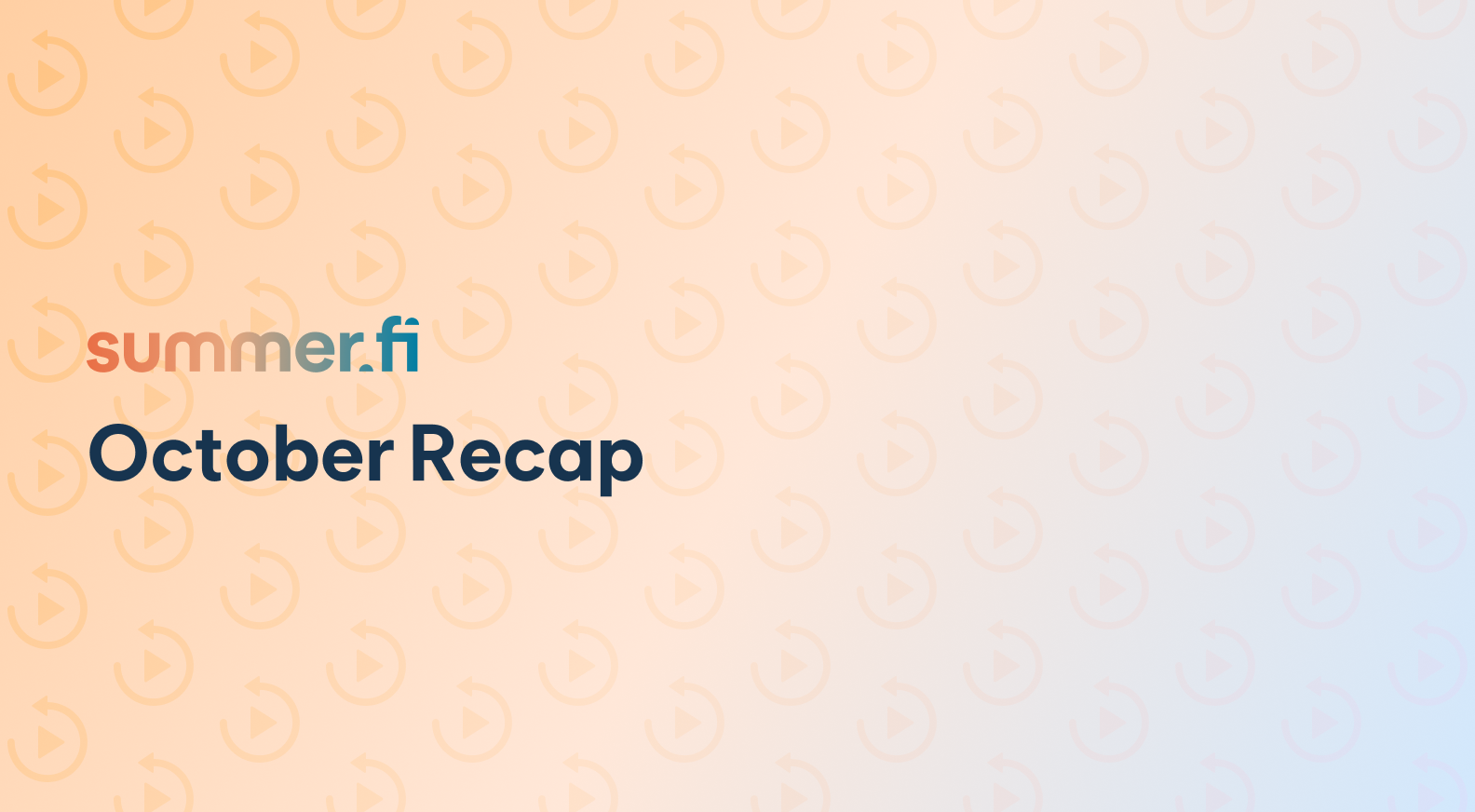 Welcome Fall!
October was a super busy month for the  Summer.fi team. While the market is still pretty sluggish, we keep building at a fast pace.This month we released a new Earn Strategy, allowing you to get the best ETH returns in the market, integrating the AAVE Protocol. This represents a big move from being "just the Maker frontend", in line with our mission to build the most trusted place to deploy your capital into DeFi. Read more about the future of  Summer.fi here.
We also introduced some new automations, to make your journey safer & smoother: Notification Centre and Take Profit.
You can read more about all of these below.
Part of the team has been to Devcon 6 in Bogotà! This has been the best Devcon so far. We had the chance to network, attend insightful talks and we sponsored the last DAIvinity, which was a blast.  You can read the recap in this thread.
Last but not least, we recently updated our Bugs Bounty program on Immunefi, expanding it with newly deployed contracts. Check it out and get the chance to win up to $100k.
Monthly Numbers
Technical & Development Updates
• A new Earn strategy has been launched! This strategy allows users to get the best ETH returns in the market. Users can enter positions with ETH, choose the risk level and in a single transaction enter a fully self-custodied position within AAVE with up to 3.5x exposure to stETH returns. Read more about this launch here.
This is our first product that we've built on top of the AAVE protocol, and we'd love to hear your feedback and suggestions. We're going to be continuing to add features for users who have interest in any AAVE functionality in the coming months.
• You can now Automate your Exit Strategy with our new vault automation, Take Profit. It allows you to quickly set a Target Price for your vault. When the target is hit, your position will be closed out and any debt will be repaid automatically. You don't even have to be at your keyboard! You can find out more about how Take Profit works in our launch blog.
• With the new Notification Centre, the platform will now notify you with relevant and timely information about your position! You will see an icon on the top right-hand side of the homepage. For now, you can receive two types of notifications: "Vault Info" Notifications - When your vault's collateralization ratio approaches a trigger ratio and "Vault Action" Notifications - when an onchain action occurs on your vault.
Community Update
We will also start to include some updates about what is happening in the  Summer.fi Community.
This month we're kick starting our new section of Community Calls in Discord. Our meetings will be streamed live, recorded and uploaded, in case you can't attend. We will have exciting guests and topics each month for you, from tutorials, workshops to interviews, anything you would like to see, we will make it happen. If there's anything special you would particularly like to see or get explained in detail, please leave a comment in our social media!
New Team Members!
We are also very happy to welcome a new member to the  Summer.fi Team!
Ann Sofie
Ann Sofie joined  Summer.fi in September as legal counsel.
She's been in the crypto and DeFi space for many years, teaching and advising on the legal aspects. Her background is in competition law, company law, corporate finance law and the legal theory of the firm.
We are hiring! If you love DeFi and  Summer.fi, and have some experience as a Software Engineer and being a Full-stack or Smart Contract Developer, there are engineering roles currently listed. We also have a Product Marketing Manager position open, so if you are experienced in driving strategy for product marketing, please apply today. We are waiting for you!
News From The World
Before we say goodbye, as always we want to share some snapshots of what is happening around us.
• Sushi is set to build a shop in the Cayman islands and Panama. On 26th October a restructuring program was approved by the Sushi DAO to form three entities that will each oversee a core function of the protocol. The three entities are: a DAO Foundation, Panamanian Foundation and Panamanian Corporation. The proposal received great approval from SUSHI holders with <11M votes in favour and only 178 votes against. The DAO Foundation will have responsibilities including grant approval, facilitating voting and proposals, on-chain governance and managing the Sushi Treasury. Sushi DAO decided to restructure its corporate structure in light of crypto regulations cracking down across the globe.
• UK lawmakers voted in favour of regulating and recognising crypto assets. On Tuesday 22nd October the house of commons met to discuss the current Financial Services and Markets Bill where several amendments were made, including one introducing crypto assets to the bill, which now contains both crypto and stablecoin regulation. Rishi Sunak was also appointed UK Prime minister on October 25th and is said to be a friend in the crypto community. While the bill is not yet enacted, it is proceeding towards its 3rd reading.
• The Japanese city of Toda, Saitama has chosen to integrate a metaverse schooling system. Government data shows a 24.9% increase in absence since 2020 across Japanese elementary and junior high school students. The metaverse schooling service allows students to explore 'campuses' and attend online lessons while connecting with fellow students online, in the hopes to also reduce absenteeism. The goal is for this resource to grow and become a safe and useful resource for young students to access predetermined school tasks online, with a variety of learning styles included.
Getting help
If you have any questions regarding Summer.fi in general, you contact us at support@summer.fi or on our social media.