Legal Bi-Weekly Update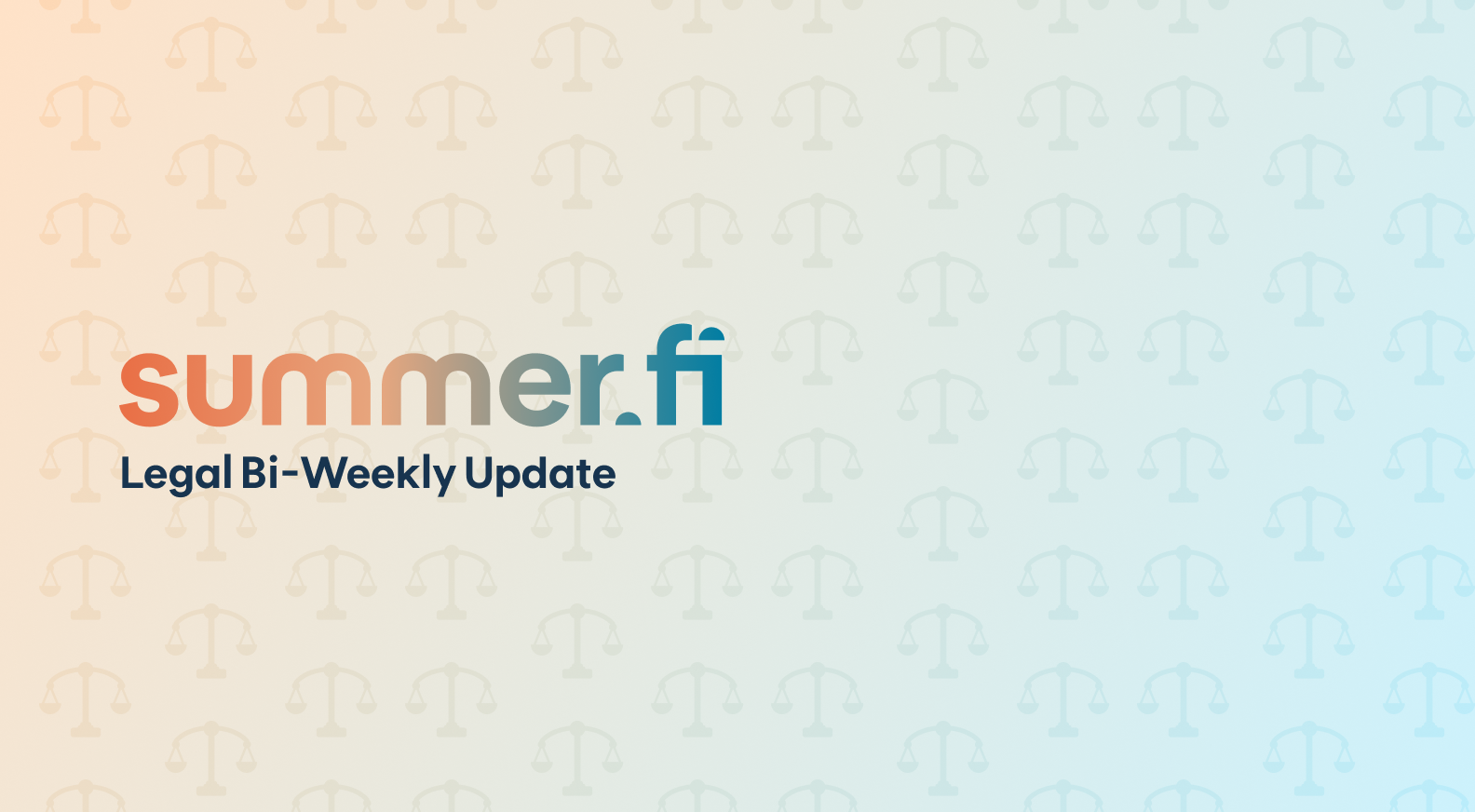 Friday 14th April
• The US Treasury looked at DeFi and illicit activity in a 42-page report, identifying gaps for anti-money laundering (AML) rules. "DeFi service that functions as a financial institution as defined by the [Bank Secrecy Act], regardless of whether the service is centralized of decentralized, will be required to comply with BSA obligations, including AML/CFT obligations". By implication, other DeFi services should be outside the BSA's scope.
• More in DeFi: France's Central Bank released a discussion paper on possible regulatory approaches to DeFi, asking for public feedback by 19 May.
• The EU's flagship Markets in Crypto Asset (MiCA) Regulation seems set for a final debate next week Wednesday (19 April) and a vote the next day. Few amendments appear to have been tabled, suggesting an easy sailing to the finish line, debate on Wednesday, April 19, and a vote on Thursday.
• Binance's books "are a black box", according to Reuters and regulated local entities serve as "window dressing for the main unregulated exchange". The Reuters investigation comes after the US CFTC brought charges against the exchange's founder CZ for the "willful evasion of federal law and operating an illegal digital asset derivatives exchange".
• In Web3: Hong Kong wants web3-friendly laws. Japan's Liberal Democratic paper released a web3 whitepaper, suggesting crypto tax reform and a legislative footing for LLC-type DAOs. The US state of Utah adopted a bill on DAOs and one on on-chain credentials.
• The US SEC is close to finalizing a settlement agreement with the Wahi brothers, who it had charged with wire fraud using confidential information on Coinbase's crypto listings.
• Montenegro's central bank partnered with Ripple for a CBDC pilot.
• Spain is planning to send over 300K crypto-related tax notices to its citizens, a 40% YoY increase.
• An analysis of the Sarcuni v. bZx DAO lawsuit, by Lawtoshi.
• US state Montana's lawmakers passed a crypto mining law.
• Zambia is finalizing its crypto simulation tests in anticipation of crypto regulation.
• Looking for a trademark for NFTs, virtual goods or services in the metaverse? The UK Intellectual Property Office published guidance on how to classify them in trademark applications.
Podcasts:
Unchained Podcast episode #479 'Are DAOs strong enough to survive regulators?'
The Law of Code podcast's latest three episodes covering the 2022 UCC amendments, liquid staking tokens as non-securities and offshore crypto in BVI, Caymans and Guernsey.
Getting help
If you have any questions regarding Summer.fi in general, you contact us at support@summer.fi or on our social media.