Legal Bi-Weekly Update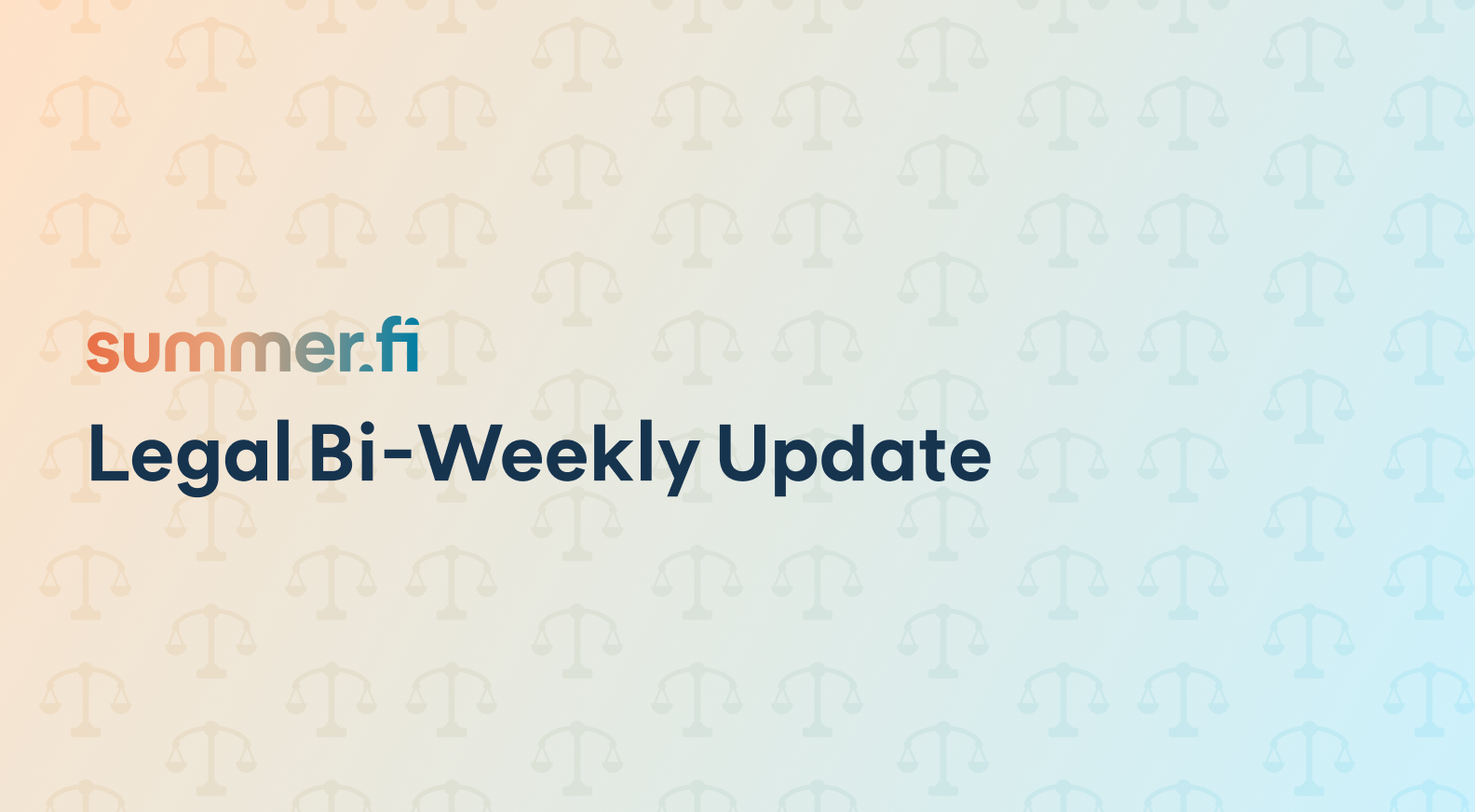 Friday 24 March
Never a dull moment in the legal crypto sphere, it seems.
From a Well's notice to Coinbase and a Sushi subpoena to the arrest of Do Kwon, and the lawsuit against Justin Sun, lots of crypto legal news coming from the US.
Read on for updates also from the EU, Hong Kong, Taiwan, Nigeria, India, the UAE and Australia, including on crypto ads, NFTs, privacy and CBDCs and DeFi.
• Coinbase received a Wells Notice from the US Securities and Exchange Commission. The Notice covers "an undefined portion of our listed digital assets, our staking service Coinbase Earn, Coinbase Prime, and Coinbase Wallet", according to a Coinbase blog. A Wells Notice is not an enforcement action in itself, but may lead to one. Coinbase's Paul Grewal talked to Laura Shin on the Unchained podcast. A few days before the SEC's Notice, Coinbase published an open letter to the SEC arguing that its staking services are not an investment contract under the Howey test.
• The 6th largest hack in DeFi targeted the Euler protocol: over US$200 million was taken through a flash loan attack.
• Terra founder Do Kwon was arrested in Serbia, reportedly attempting to leave the country with false documents. He was charged with securities fraud, wire fraud, commodities fraud and conspiracy in a US court a few hours later.
• Tron founder Justin Sun and three of his wholly-owned companies were charged by the US Securities and Exchange Commission. The charges allege  an "unregistered offer and sale of crypto asset securities Tronix (TRX) and BitTorrent (BTT)" "fraudulently manipulating the secondary market for TRX through extensive wash trading" and "orchestrating a scheme to pay celebrities to tout TRX and BTT without disclosing their compensation". Lindsey Lohan is one of the 8 celebrities charged for "illegally touting TRX and/or BTT without disclosing that they were compensated for doing so".
• Hong Kong plans to launch its licensing regime for virtual asset service providers in June. As of the end of last month, Invest Hong Kong has received expressions of interest from over 80 virtual asset-related Mainland and foreign companies in establishing their presence in Hong Kong, and 23 companies from the Mainland, Canada, the EU, Singapore, the UK and the US have indicated plans to establish a presence in Hong Kong, said Hong Kong's Secretary for Financial Services and the Treasury, Mr. Christopher Hui. The Monetary Authority is also working on a stablecoin regime scheduled for 2024, Mr. Hui said.
• Sushi and its 'head chef' Jared Grey received a subpoena from the US Securities and Exchange Commission. Sushi did not disclose details of the subpoena. The Sushi DAO voted last year to incorporate three entities, each running succinct activities for the DAO: a Cayman Islands foundation, a Panamanian Foundation ("Panamanian Foundation") and a Panamanian Corporation for the front-end. The legal structure was promoted as limiting legal risk. 15 voters voted at the time.