Introducing Ajna Token Rewards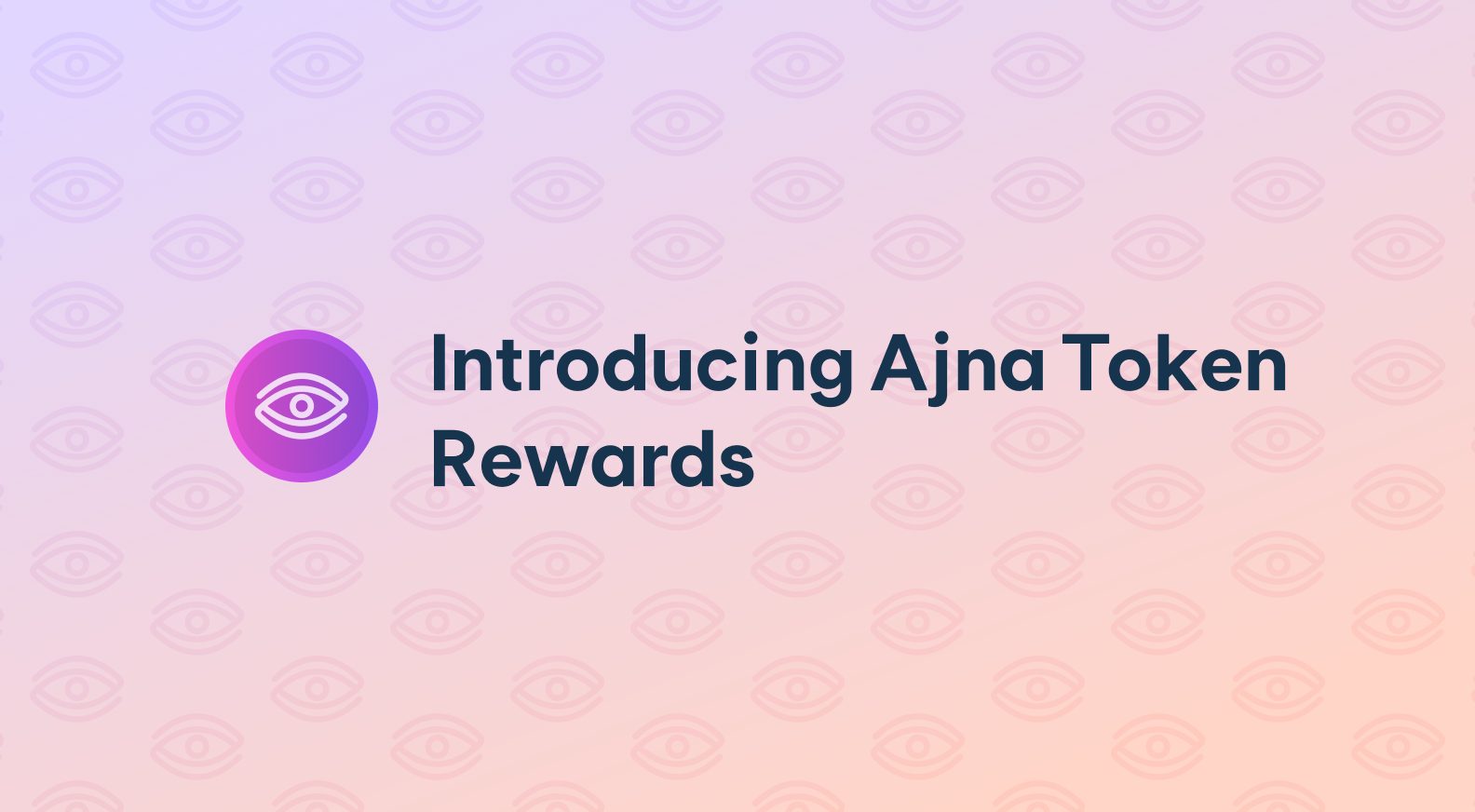 We are delighted to announce an exciting development on Summer.fi that will supercharge your experience using the Ajna protocol. Our new program introduces a rewarding system with Ajna Tokens to users with positions opened on Summer.fi's Smart Defi Account.
Starting immediately, you can accumulate Ajna Tokens as rewards, automatically credited to your account each week. By integrating this novel reward mechanism, we aim to incentivize lenders and borrowers while promoting active liquidity within our ecosystem.
For lenders
For our dedicated lenders, we've designed this system to reward your deposits falling within the active liquidity range and beyond which you can read more about here. In simple terms, active liquidity refers to deposits actively used in the pool, thus contributing to overall liquidity. Do note; however, deposits classified under the available liquidity and unutilized liquidity categories will not qualify for these rewards. **Lenders lending in Default Lending and Aggressive Lending will be rewarded for their liquidity**
Suppose our weekly reward pool holds 1000 Ajna Tokens. If the pool has 30,000 tokens deposited by lenders, and only 10,000 are classified under the active liquidity range, these 10,000 tokens are eligible for the reward. If you contribute 1,000 tokens (10%) to this active liquidity for five days, you will be rewarded with approximately 714 Ajna Tokens. If more tokens migrate to the active liquidity range, they will also qualify for rewards proportional to their time in this range.
For borrowers
For our borrowers, the system is just as enticing. Rewards will be calculated based on the proportion of tokens borrowed during the week. All borrowers are considered equally, as they borrow from a common pool. We've decided to weigh the rewards towards lenders to ensure ample liquidity in our selected pools.
Now, here comes the cherry on top. The rewards will accumulate weekly and be available for claiming every seven days. For the initial phase, rewards will only accrue, and you can claim your entire earnings once the tokens are released.
Rewards Settings
Token amounts and pool weights, are updated weekly and fixed for each week. These may vary for subsequent weeks, as we continually strive to promote liquidity in different pools.

The starting pools will be:
RETH/DAI with 110,000 AJNA per week
WBTC/DAI with 110,000 AJNA per week
WSTETH/DAI with 110,000 AJNA per week
ETH/USDC with 88,000 AJNA per week
WBTC/USDC with 88,000 AJNA per week
WSTETH/USDC with 88,000 AJNA per week
USDC/ETH with 55,000 AJNA per week
USDC/WBTC with 55,000 AJNA per week
CBETH/ETH with 132,000 AJNA per week
WSTETH/ETH with 132,000 AJNA per week
RETH/ETH with 132,000 AJNA per week

60% of rewards will go to lenders and 40% to borrowers. We will announce changes to the pools and distributions as they are done in our communication channels before they start.
By fostering active participation and promoting liquidity, we believe this reward system will greatly enhance the Summer.fi experience for lenders and borrowers.
Thank you for your ongoing support and enthusiasm as we continue to push the boundaries in Defi. As a new and exciting oracle-less and no governance protocol Ajna is a novel take on lending. We are happy to accompany you in discovering a new way to lend and borrow.