Expanding EARN with Aave V3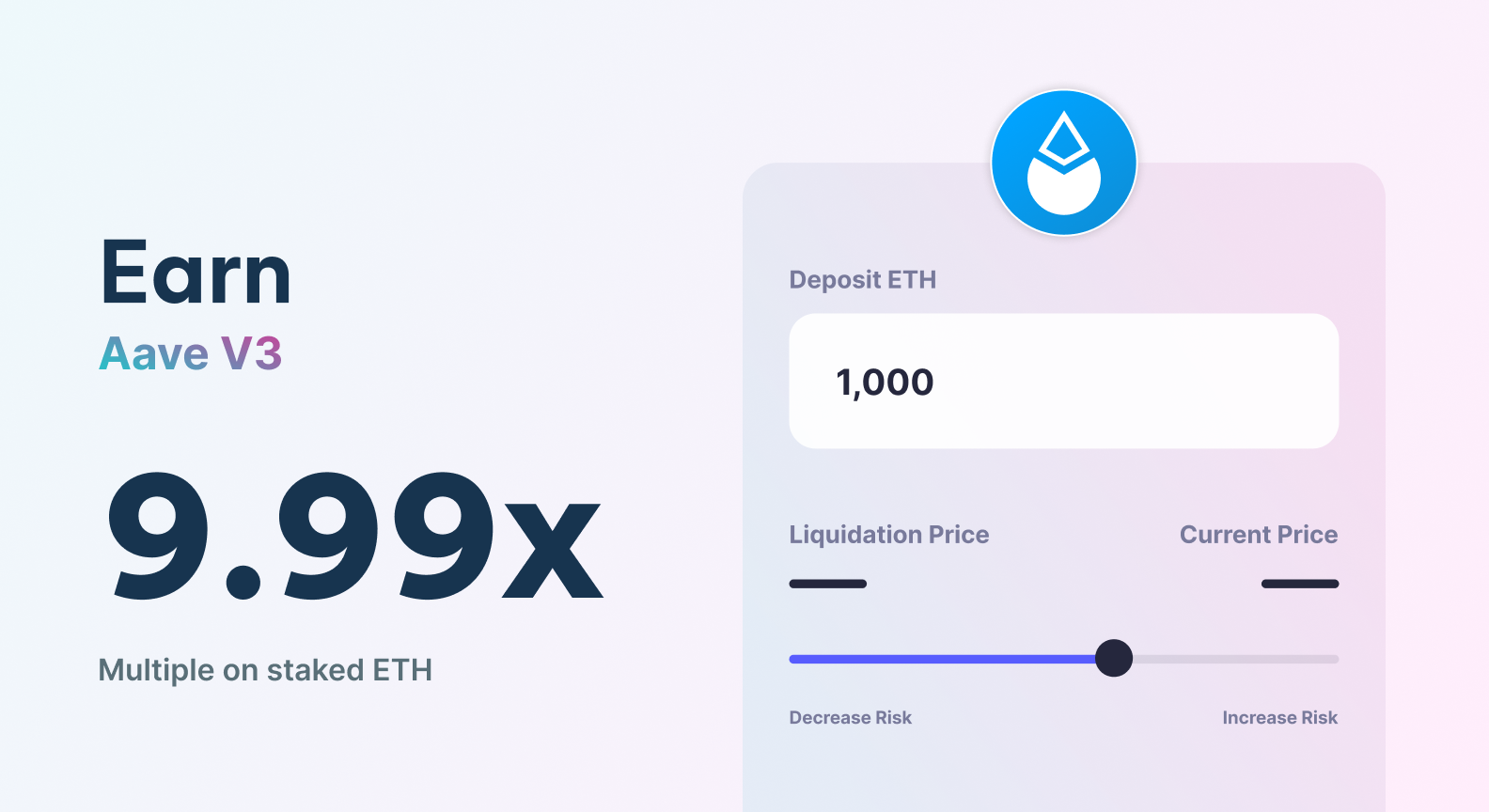 With the new Earn strategy, Summer.fi allows you to get up to 9.99x staking rewards using Aave v3 on mainnet with wstETH/ETH pair.
Why should you use it?
This release will allow you to increase your exposure to Ethereum staking yields in just one transaction, making it easier and more convenient for you to maximize your profits.
And it will be free to enter! Summer.fi won't charge you any initial cost. You can enter and increase your leverage without paying any extra fees (only network fees) as with any other Ethereum transaction.
How does it work?
This new strategy is fully self-custodial, meaning that you can control your risk level and manage it accordingly.
Under the hood, this strategy works by flashloaning and adding that flashloan to the deposit amount to swap for wstETH. Next, the wstETH is placed into Aave v3 as collateral, and ETH debt is obtained in the same transaction. In the end, you will have a position up to 9.99x your initial deposit in wstETH collateral and up to 8x your initial deposit in ETH debt.
What are the risks?
This Summer.fi Earn position comes with liquidation risk, so it is essential to monitor the price between wstETH and ETH to ensure that you are not at risk of being liquidated. The annual percentage yield (APY) for borrowing ETH in Aave V3 is variable and may not always be profitable during periods of high demand.
What are the costs?
There is a fee of 0.07% of the amount swapped for decreasing risk and closing, opening the position and increasing the leverage has no fees attached.
We hope that this new release will help you achieve your desired position and earn passive returns on your ETH. If you have any questions or feedback, please don't hesitate to contact us!
Note: With this release, you can open a position and then close it in one go to ETH.
Coming soon you will be able to adjust your multiple active positions.
Don't miss any update: we are already working on supporting more collaterals and novel strategies with Aave V3. Subscribe to our newsletter now!
Getting help
If you have any questions regarding Summer.fi in general, you contact us at support@summer.fi or on our social media.